Well, shit. I am going to buy an Ovechkin Jersey next paycheque. It's not even a fucking option anymore. I mean, it's the least I can do for all this glorious cannon fodder Mr. Ovechkin is providing me in my attacks on the defender of hockey xenophobia: Don "Dunce" Cherry.
Scroll down if you need the pre-frame on the story, but you all know the deal. So here's the next installment of hockey's greatest player versus the sport's most senile ambassador of hate.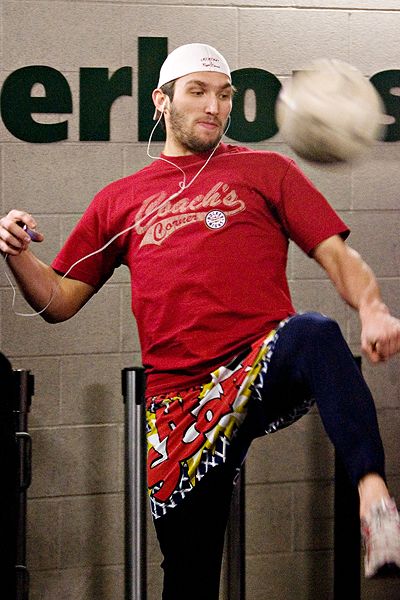 Christ Almighty, does it get any better than this? Maybe if Micheal Jordan had come out wearing a strap-on dildo after Marv Albert took a chunk out of that prozzie...nah not even then. Cherry has been dishing out his pigsnot for so long, the fact that any player, even if he was a beer league player in Africa, challenges him is so refreshing. The fact that it is the BEST PLAYER IN THE NATIONAL HOCKEY LEAGUE is downright soul shifting material, it is like a fucking religious experience for me. These pictures are like when the Virgin Mary showed up on that piece of toast: tasty.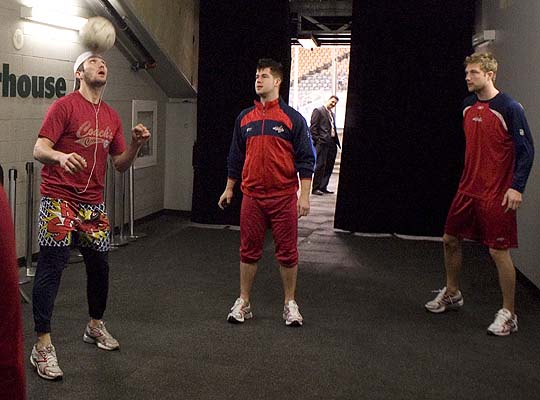 Does it say "He Scores" on his crotch?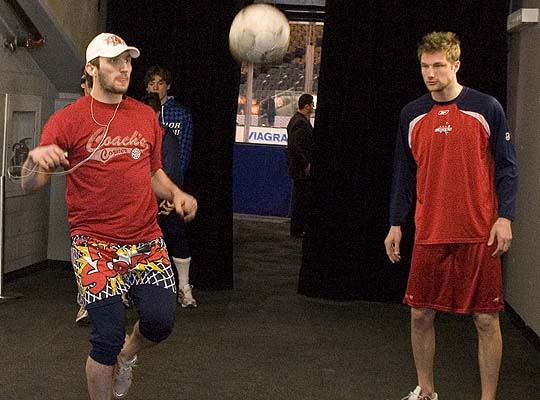 Yep. So there you have it. Ovechkin playing soccer in a Coach's Corner T shirt. The shirt is also said to have had the word "RESPECT" imprinted on the back. I can only assume that means that Ovechkin thinks that Cherry owes him some, as he has made it pretty obvious that he thinks Cherry is an un-interesting old man that he doesn't pay much attention to. This is about the best sports feud since Shaq asked Kobe to tell him how his ass tasted.
Is it Saturday yet? Cause Coach's Room is going to be another "beauty" as the old relic would say.
Edit: Is Mike Green still carrying baby fat? And why is the guy at the end of the tunnel staring at his caboose?