Let's make a list!
I will summarize the top 5 trades in my un-humble opinion since June of last year in the NHL. Why? Cause I fucking feel like it, and because everyone is holding their twig and berries waiting to drop some news on a trade that won't actually mean anything for the teams involved.
COUNTDOWN!!
5.The New York Rangers acquired wingers Nikolai Zherdev and Dan Fritsche from the Columbus Blue Jackets for defensemen Fedor Tyutin and Dan Fritsche.
Analysis: I really wanted to put Chris Mason for a 4th rounder here, but I feel that Zheredev has too much talent to leave him out. That being said, the Rangers blow.
4.The Edmonton Oilers acquired winger Erik Cole from the Carolina Hurricanes for defenseman Joni Pitkanen.
Analysis: Cole sucks, Pitkanen doesn't.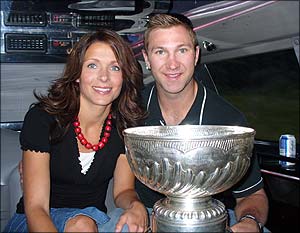 3.The Montreal Canadiens acquired winger Alex Tanguay and a fifth-round draft pick in 2008 from the Calgary Flames for a first-round draft pick in 2008 and a second-round draft pick in 2009
Analysis: All I know, is that this trade made losing Mark Streit seem easy, as Tanguay has made his living in Streit's spot on the PP. Nice one, way to maximize your investment.
2.In a three-way trade, the Calgary Flames acquired winger Mike Cammalleri from the Los Angeles Kings for a first-round draft pick in 2008 (17th overall). The Kings then sent the 17th overall pick plus their first-round draft pick in 2008 (28th overall) to the Anaheim Ducks for a first-round draft pick in 2008 (12th overall).
Analysis: A three team trade is already hard enough to analyze and the first rounders floating about make it even tougher. However, I know that Cammalleri is a PPG guy this season ona playoff team, while the Ducks and Kings are...shitty.
1.The San Jose Sharks acquired defensemen Dan Boyle and Brad Lukowich from the Tampa Bay Lightning for defensemen Matt Carle and Ty Wishart, a first-round draft pick in 2009 and fourth-round draft pick in 2010.
Analysis: Tampa's brain trust, what an oxymoron. I don't care about cap space, I don't care if Tampa actually found a team that took Carle and his salary on. Look at what Boyle has done this season. Maybe slitting your wrists is a good career move after all...(I'm not looking at you Owen Wilson)
The shittiest trades you ask? Let's leave that for another day!!